Try these articles:

• going green at home, being environmentally friendly
• keep mosquitoes out of your home and yard
• waterproofing your basement
• how to avoid foreclosure and keep your home
• security, alarm systems for your home
• sunroom or solarium: a bright addition
• remodeling your kitchen
• which home mortgage loan is best for you
• determine your home's value for selling
• find two more hours in every day.

Coin Collecting:
Small Investments That Pay BIG
by Jeffrey D. Leiser
Some call it a hobby. Some call it an investment. I say coin collecting is exploding into big profits with small capital amounts. For example, you could have invested $59.00 on July 15, 2002, and on July 15, 2003 your investment could have grown to $250.00. That's over a 4 to 1 return. Now what do you think of it?

Oh and better still, the money that you contribute to this particular nest egg has almost no risk. And wow! What about its artistic beauty that reflects historic meaning?

What am I talking about? Modern commemorative U.S. coins. Yep, that's right. This is coin collecting, folks. But not like you might envision. You might be picturing a middle to elderly aged man, sitting quietly at a desk, with magnifying glass in hand, examining some ancient Greek token. No sir, this kind of coin collecting is fresh, new, exciting and can be very profitable.
The first step to coin collecting is to get a copy of the red Guide Book of United States Coins for this year, available on most coin sites or on Amazon. It will let you know the current price for any coin you are considering.

Take a look at Ebay, for example. Look up modern commemorative U.S. coin, and watch the incredible tally of listings that appear. Then grab your coin reference book and compare today's sales to any of those coin's original issue price. I'll bet for the most part you'll be floored at the difference. Below I'll show you some exciting profits you could make.

Most of today's coin collectors developed the hobby within the last twenty years. Nearly all of the commemorative coins issued in this time period have increased in value. Here are a few examples of coin investments which have some collectors smiling: the 1995 Tenth Anniversary of the American Eagle coin set (issue price $995.00, current value $6,600.00); 1997w Jackie Robinson uncirculated $5 gold coin (issue price $225.00, current value $4,400.00), 2000w $10 uncirculated bimetal Library of Congress coin (issue price $235.00, current value between $3,100.00 and $4,000.00 depending on its grade), 2001w Capital's Visitor Center uncirculated $5 gold coin (issue price $235.00, current value $1,750.00 or higher).

Last but not least, how about the 2001 Buffalo Dollar two coin set, which originally sold for $59.00? It is now selling as high as $300.00 on Ebay! Let's say you had bought all of the above coins over the six-year period these coins were issued. You would have spent a total of $1,854.00 (or $25.75 a month). At today's market value, you would have ten times or 1000% return in modern rare coins. All of these coins have greatly increased in value in a few short years.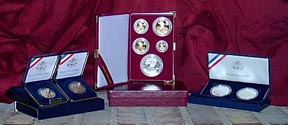 Shown above left to right - 2000w $10.00 Library of Congress both proof & uncirculated - 1995w 10th Anniversary Gold & Silver Eagle proof mint set - 2001 P&D one dollar Buffalo coins. Part of the personal collection of the author. (Click on the image to enlarge).

Now, does this sound like the kind of hobby for you? Let me give you three tips.

Tip number one: Now is a great time to start collecting coins, if you haven't already. The U.S. mint is always coming out with limited edition coin sets, which normally increase in value.

Tip number two: Do a little research by subscribing to a coin magazine (I like Coin World) and buying a current coin book, like the Red book mentioned above. It's always nice to know terms like MS (mint state), proof, circulated and uncirculated. The same can be said for knowing the current market value of your coins.

Tip number three: Bookmark the U.S. mint's web site and get on their email list. You get info on up and coming coin issues and circulation numbers. If you open an account, you get a lot of privileges. Check it out.

The beauty of investing your money in coins is that, in a sense, you get to "have your cake and eat it too." Unlike stocks or a savings account, you actually get something beautiful for your money, which you can take out and look at. The old adage in coin collecting is that you can spend every penny you have on your hobby, and still have money left over. If you invest wisely, you can make more than you would in any savings account, and your money is there when you need it, ready to be sold for a nice profit when you need ready cash.

Remember when I said it would be exciting?...Well my friend, wait until you find yourself hovering over a keyboard as you are counting the seconds when an issued coin by the U.S. mint will go on sale, and hoping your placed order will go through before the coin is sold out. Not to mention Ebay auctions. To get in that last and winning bid on a long sought after coin is...well you'll find out. Good luck my fellow numismatist (that's coin collector to the rest of you.)

*****

Jeffrey D. Leiser is author of the "Home Buying Inspection Guide" and the "You Can Sell Your House: For Sale By Owner" guidebook.